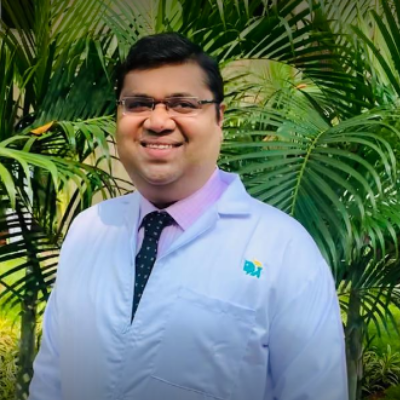 Gastroenterologist in Nagpur
MBBS, MD (Medicine), DNB (Gastroenterology)
Dr. Rachit Agarwal is a Gastroenterologist in Nagpur. He is also Hepatologist, Therapeutic and  Endoscopist In Nagpur. He Provides Services Related To Gas Acidity, Constipation, Fatty Liver, Abdominal Pain, Jaundice, And Diarrhea. He has vast experience in treating alcohol-related liver disease, Cirrhosis, Pancreatitis, Hepatitis, Biliary, and GI cancer. He completed an MBBS from Indira Gandhi Government Medical College, Nagpur with a first-class grade. He pursued his Post Graduation (MD in Medicine) from Topiwala National Medical College, Mumbai, and DNB Gastroenterology from Sir Gangaram Hospital, New Delhi. He has good experience as Hepatologist and Gastroenterologist in Nagpur Location.
Services We are Providing
Upnishad Jaiswal
2021-08-31
We recently consulted Dr. Rachit regarding my brother's liver issue. He listened to the problems patiently and suggested apt treatment. My brother is having big relief now and all thanks to him:)
Vinayak Tandle
2021-08-31
Dr. Rachit is excellent at Dianosis and Treatment.
I visited Dr. Rachit Agarwal for my liver problem. He is very polite, intelligent with deep knowledge of Gastroenterology. He listened to me patiently and carefully, he went thorough with all the previous investigations and made perfect diagnosis. His treatment is superb... Strongly recommend...
Priyanka Gambhir
2021-08-01
Dr Rachit Agarwal is a very good doctor with excellent clinical and endoscopy skills. His treatment is patient friendly and very effective. I like his behaviour, treatment skills and the way he counsels the patients. It is worth to visit his clinic for Gastro and liver problems
Tripurari sharan tripathi
2021-07-29
I want to say a big thanks to Dr beacause the way he listen and understand patient's pain is really appreciable . He is very polite , sensible and experienced doctor and the best part , he thinks in 360 degree to cure all problems permanently. He always give right suggestions Highly recommended
Vinutha Nagaraj
2021-06-30
Very experienced doctor 👍🏼
Wonderful experience. One extremely good thing about Dr Rachit Agarwal is that he is very polite . He hears his patients completely and with my personal experience I feel he never gives unnecessary medicine. He is very experienced and skillful in his profession. I appreciate Sir and will always recommend my friends to visit him.
Rashmi Choudhary
2021-06-23
It was a great experience with Dr. Rachit Agarwal as he is a very knowledgeable, calm and friendly doctor. He listens your problem and advise the best way to the patient. I am suffering gastric problem since 3 years Dr. Rachit advised for endoscopy so that the problem gets cleared in one shot, when endoscopy done really the problem was shown in my stomach and advised me to have medicines for 4 weeks from day 1 feeling relief and hope so for the next. He treated me like as I am his family member, that is the best quality is he has, Also provide me the diet chart to follow in the daily life routine. I am so happy!! Thanks so much Dr. Rachit Agarwal !!!
Call Us Now
Whether you have a question about treatments, services or anything else, our team is ready to answer all your questions